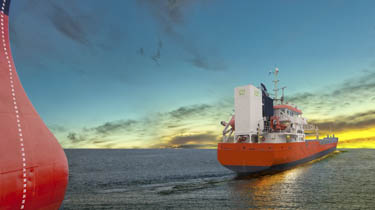 Emissions Savings in 8 days…seen in 1 minute
The value is in the proof!
Recently we achieved emissions savings for our client X-Press Feeders in less than 8 days by installing our Carbon Capture feature and Clean-Loop system onboard Atlantis A in Rotterdam.
Check out our short video of the crew #makingithappen, working to plan and completing all installation work on time. The vessel sailed again the following Monday with a 20% emissions reduction and continues to trade in North-West Europe.
A special thanks to all involved for the support and cooperation.
3MW Filtree Unit installed on the MS Frisian Ocean
Value Maritime's 3MW Filtree Unit installed on the MS Frisian Ocean from Boomsma Shipping.
CO2 Capture, Storage and Re-use
Value Maritime has developed an onboard CO₂ Capture and Storage solution for the Maritime Industry. A Capture Module captures CO₂ from the vessel's exhaust and uses the CO₂ to charge a CO₂ Battery; a CO₂ storage facility on which CO₂ can be charged and discharged. The Capture module will be integrated in Value Maritime's Filtree System; a small prefabricated, pre-installed, "plug and play" gas cleaning system. Value Maritime's first CO₂ Capture Module and CO₂ Battery will be installed on Visser Shipping's Nordica vessel October this year, making the Nordica the first vessel to capture and store CO₂ onboard of a vessel whilst in operation. The vessel will be operated by X-Press Feeders.
Check out this video to see how it works!
DELIVERING VALUE MARITIME FILTREE SYSTEM
Delivering Value Maritime's Filtree System. A perfect fit!
RETROFIT FILTREE INSTALLATION
This video will show you how we were able to do a retrofit Filtree installation in just 9 days.
PRE-INSTALLATION FILTREE SYSTEM
In this video you can see the pre-installation and pre-commissioning of the Filtree system in our warehouse.
THREE WAY VALVE
Details of the 3 Way Valve that is attached to the exhaust of the vessel.
MODULE POSITIONING
Details of the positioning of the Filtree System (casing) on a vessel and working space that remains on deck.